Tollund Man's last meal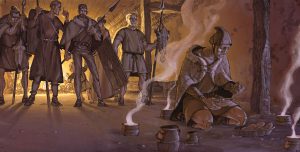 Illustration Niels Bach
At the autopsy, approximately ¼ liter of stomach content was found. The majority was found in his colon, and this suggests that he ate his last meal 12-24 hours prior to his death. Botanist Hans Helbæk, who concluded that the meal had consisted of seeds from no fewer than 29 different plants, analyzed the stomach content. Main component was hulled and pearled barley, supplemented by linseed and oats, followed by seeds from a variety of plants, which we today would call weeds. Some of the weed seeds were present in an amount that reveals they must have been gathered on purpose. This goes for knotweed, fat hen, spurrey, gold-of-pleasure, field pansy and common hemp–nettle. Other weed seeds must have been randomly harvested along with the crops thereby ending up in the meal. No traces of meat or fresh vegetables were found in the meal.
Autopsy at Bispebjerg Hospital
The meal was most likely a gruel or porridge cooked with water from the bog – under any circumstances did fresh sphagnum moss leaves end up in the cooking. It is easy to imagine that the meal must have been typical for late winter or early spring, where the last slaughter was long ago and it was yet too soon for nature's fresh vegetables. Tollund Man's porridge has been recreated and tasted many a times and some quite like it while others find it abominable.